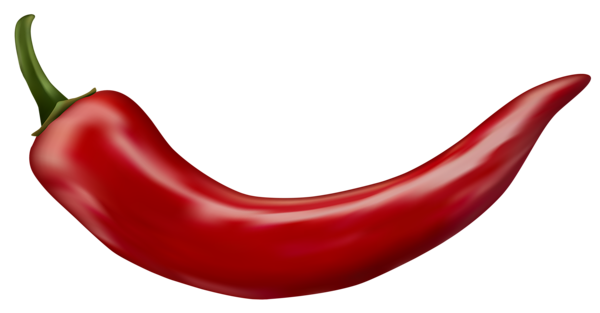 Chili pepper PNG image with transparent background
This image has format transparent PNG with resolution 600x313.
You can download this image in best resolution from this page and use it for design and web design.
Chili pepper PNG with transparent background you can download for free, just click on it and save.
The chili pepper (also chile, chile pepper, chilli pepper, or chilli), from Nahuatl chīlli (Nahuatl pronunciation: [ˈt͡ʃiːlːi] (About this soundlisten)), is the berry-fruit of plants from the genus Capsicum which are members of the nightshade family, Solanaceae. Chili peppers are widely used in many cuisines as a spice to add pungent 'heat' to dishes. Capsaicin and related compounds known as capsaicinoids are the substances giving chili peppers their intensity when ingested or applied topically. Although this definition would technically include bell peppers, in common language they are often two discrete categories: bell peppers and chili peppers.
Chili peppers originated in Mexico. After the Columbian Exchange, many cultivars of chili pepper spread across the world, used for both food and traditional medicine. This diversity has led to a wide variety of varieties and cultivars, including the annuum species, with its glabriusculum variety and New Mexico cultivar group, and the species of baccatum, chinense, frutescens, and pubescens.
Cultivars grown in North America and Europe are believed to all derive from Capsicum annuum, and have white, yellow, red or purple to black fruits. In 2016, the world's production of raw green chili peppers amounted to 34.5 million tons, with China producing half.
Chili pepper pods are, technically, berries. When used fresh, they are most often prepared and eaten like a vegetable. Whole pods can be dried and then crushed or ground into chili powder that is used as a spice or seasoning. Chilies can be dried to prolong their shelf life. Chile peppers can also be preserved by brining, immersing the pods in oil, or by pickling.
Many fresh chilies such as poblano have a tough outer skin that does not break down on cooking. Chilies are sometimes used whole or in large slices, by roasting, or other means of blistering or charring the skin, so as not to entirely cook the flesh beneath. When cooled, the skins will usually slip off easily.
The leaves of every species of Capsicum are edible. Though almost all other Solanaceous crops have toxins in their leaves, chili peppers do not. The leaves, which are mildly bitter and nowhere near as hot as the fruit, are cooked as greens in Filipino cuisine, where they are called dahon ng sili (literally "chili leaves"). They are used in the chicken soup tinola. In Korean cuisine, the leaves may be used in kimchi. In Japanese cuisine, the leaves are cooked as greens, and also cooked in tsukudani style for preservation.
Many Mexican dishes, including variations on chiles rellenos, use the entire chili. Dried whole chilies may be reconstituted before grinding to a paste. The chipotle is the smoked, dried, ripe jalapeño. In the northern Mexican states of Sinaloa and Sonora, chiltepin peppers (a wild pepper) are used in cheeses and soups to add spiciness to dishes. In southern Mexico, mole sauce is used with dried chiles, such as ancho and chipotle peppers. Chiles are used in salsas. Mexican households usually grow chile plants to use in cooking.
In India, most households always keep a stock of fresh hot green chilies at hand, and use them to flavor most curries and dry dishes. It is typically lightly fried with oil in the initial stages of preparation of the dish. Some states in India, such as Rajasthan, make entire dishes only by using spices and chilies.[citation needed]
Chili is a staple fruit in Bhutan. Bhutanese call this crop ema (in Dzongkha) or solo (in Sharchop). The ema datshi recipe is entirely made of chili mixed with local cheese.
In this page you can download free PNG images: Chili pepper PNG images free download
Keywords: Chili pepper PNG, Chili pepper PNG images, PNG image: Chili pepper PNG, free PNG image, Chili pepper
Image category: Chili pepper
Format: PNG image with alpha (transparent)
License: Creative Commons 4.0 BY-NC
Resolution: 600x313
Size: 71 kb