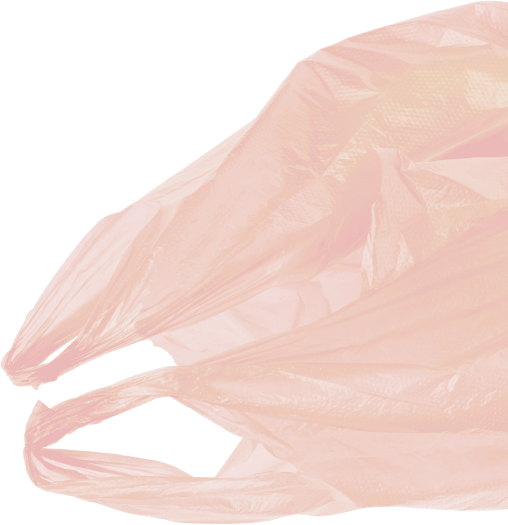 Plastic bag PNG image with transparent background
This image has format transparent PNG with resolution 508x525.
You can download this image in best resolution from this page and use it for design and web design.
Plastic bag PNG with transparent background you can download for free, just click on it and save.
A plastic bag, polybag, or pouch is a type of container made of thin, flexible, plastic film, nonwoven fabric, or plastic textile. Plastic bags are used for containing and transporting goods such as foods, produce, powders, ice, magazines, chemicals, and waste. It is a common form of packaging.
Most plastic bags are heat sealed at the seams, while some are bonded with adhesives or are stitched.
Many countries are introducing legislation to phase-out lightweight plastic bags, because plastic never fully breaks down, causing everlasting pollution of plastics and environmental impacts. Every year, about 1 to 5 trillion plastic bags are used and discarded around the world.
Several design options and features are available. Some bags have gussets to allow a higher volume of contents, some have the ability to stand up on a shelf or a refrigerator, and some have easy-opening or reclosable options. Handles are cut into or added into some.
Bags can be made with a variety of plastics films. Polyethylene (LDPE,LLDPE, etc.) is the most common. Other forms, including laminates and co-extrusions can be used when the physical properties are needed.
Plastic bags usually use less material than comparable to boxes, cartons, or jars, thus are often considered as "reduced or minimized packaging".
Depending on the construction, plastic bags can be suited for plastic recycling. They can be incinerated in appropriate facilities for waste-to-energy conversion. They are stable and benign in sanitary landfills. If disposed of improperly, however, plastic bags can create unsightly litter and harm some types of wildlife.
Bags are also made with carrying handles, hanging holes, tape attachments, or security features. Some bags have provisions for easy and controlled opening. Reclosable features, including press-to-seal zipper strips, are common for kitchen bags bought empty and for some foods. Some bags are sealed for tamper-evident capability, including some where the press-to-reseal feature becomes accessible only when a perforated outer seal is torn away.
Boil-in-bags are often used for sealed frozen foods, sometimes complete entrees. The bags are usually tough heat-sealed nylon or polyester to withstand the temperatures of boiling water. Some bags are porous or perforated to allow the hot water to contact the food: rice, noodles, etc.
Bag-in-box packaging is often used for liquids such as box wine and institutional sizes of other liquids.
American and European patent applications relating to the production of plastic shopping bags can be found dating back to the early 1950s, but these refer to composite constructions with handles fixed to the bag in a secondary manufacturing process. The modern lightweight shopping bag is the invention of Swedish engineer Sten Gustaf Thulin. In the early 1960s, Thulin developed a method of forming a simple one-piece bag by folding, welding and die-cutting a flat tube of plastic for the packaging company Celloplast of Norrköping, Sweden. Thulin's design produced a simple, strong bag with a high load-carrying capacity, and was patented worldwide by Celloplast in 1965.
From the mid-1980s onwards, plastic bags became common for carrying daily groceries from the store to vehicles and homes throughout the developed world. As plastic bags increasingly replaced paper bags, and as other plastic materials and products replaced glass, metal, stone, timber and other materials, a packaging materials war erupted, with plastic shopping bags at the center of highly publicized disputes.
In 1992, Sonoco Products Company of Hartsville, SC patented the "self-opening polyethylene bag stack". The main innovation of this redesign is that the removal of a bag from the rack opens the next bag in the stack.
In this clipart you can download free PNG images: Plastic bag PNG images free download
Keywords:
Plastic bag PNG, Plastic bag PNG images, PNG image: Plastic bag PNG, free PNG image, Plastic bag
Image category:
Plastic bag
Format:
PNG image with alpha (transparent)
License:
Creative Commons 4.0 BY-NC
Resolution: 508x525
Size: 395 kb