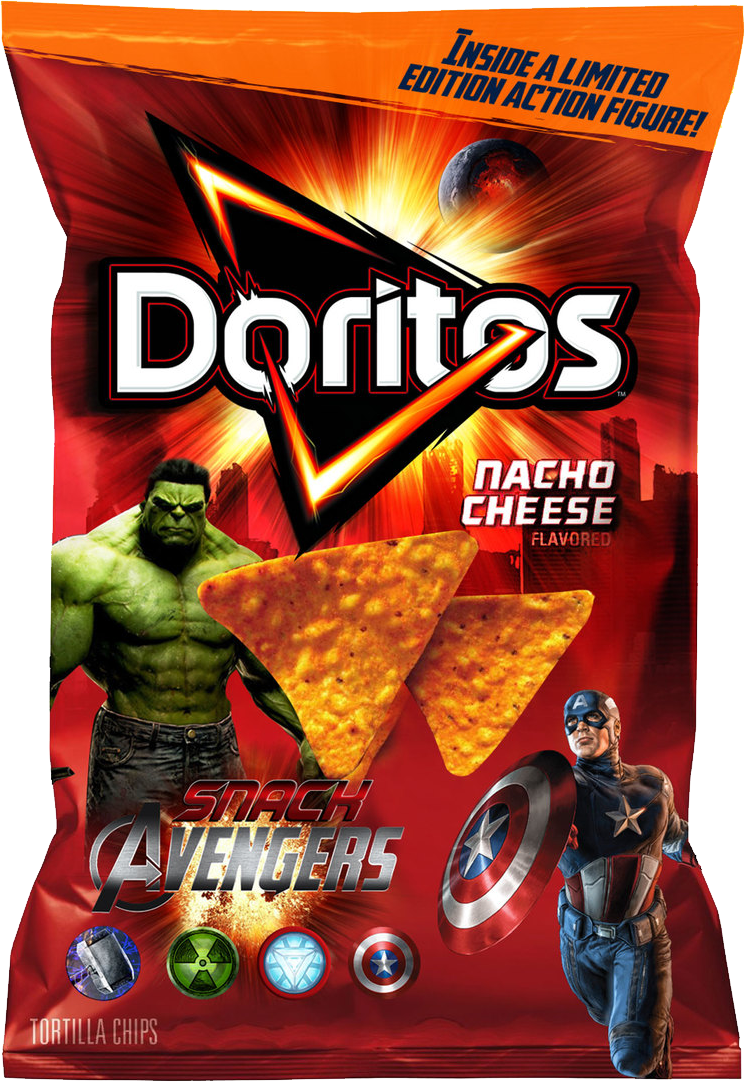 Doritos PNG image with transparent background
This image has format transparent PNG with resolution 745x1082.
You can download this image in best resolution from this page and use it for design and web design.
Doritos PNG with transparent background you can download for free, just click on it and save.
Doritos is an American brand of flavored tortilla chips produced since 1964 by Frito-Lay, a wholly owned subsidiary of PepsiCo. The original Doritos were not flavored. The first flavor was Taco, released in 1967, though other flavors have since debuted for the company. The concept for Doritos originated in a restaurant at Disneyland.
Doritos has also gained notoriety for its marketing campaigns, including many ads aired during the Super Bowl.
The original product was made at the Casa de Fritos (now Rancho Del Zocalo) at Disneyland in Anaheim, California, during the early 1960s. Using surplus tortillas and taking the original idea from the traditional Mexican snack known as totopo, the company-owned restaurant cut them up, fried them, and added basic seasoning, resembling the Mexican chilaquiles, but in this case being dry. Arch West was the vice president of marketing of Frito-Lay at the time, and noticed their popularity. He made a deal in 1964 with Alex Foods, the provider of many items for Casa de Fritos at Disneyland, and produced the chips for a short time regionally, before it was overwhelmed by the volume, and Frito-Lay moved the production in-house to its Tulsa plant.
Doritos were released nationwide in 1966, the first tortilla chip to be launched nationally in the United States.
According to Information Resources International, in 1993, Doritos earned $1.2 billion in retail sales, one-third of the total Frito-Lay sales for the year. Nevertheless, in the costliest redesign in Frito-Lay history, in 1994 the company spent $50 million to redesign Doritos to make the chips 20% larger, 15% thinner, and rounded the edges of the chip. Roger J. Berdusco, the vice president of tortilla chip marketing, said a primary reason for the change was "greater competition from restaurant-style tortilla chips, that are larger and more strongly seasoned". The design change was the result of a two-year market research study that involved 5,000 chip eaters. The new design gave each chip rounded corners, making it easier to eat and reducing the scrap resulting from broken corners. Each chip was also given more seasoning, resulting in a stronger flavor. The redesigned chips were released in four flavors beginning in January 1995.
In the United States, Frito-Lay eliminated trans fat from all Doritos varieties in 2002. The same year, the Doritos brand began complying with U.S. Food and Drug Administration labeling regulations, four years before the regulations became mandatory.
The company was sued in 2003 by Charles Grady, who claimed that his throat had been damaged because of eating Doritos. According to him, the shape and rigidity of the chips made them inherently dangerous. Grady attempted to admit into evidence a study by a former chemistry professor that calculated how best to safely swallow the chips. The Pennsylvania Supreme Court later ruled that the study did not meet scientific standards and could not be presented as evidence.
In 2005, Doritos sales in the United States fell by 1.7% to $595 million. To increase sales in 2006, the company launched several new flavors, a new label, and more bilingual advertising. Frito-Lay vice president Joe Ennen described this as "the most significant rebranding and relaunch in Doritos' 38-year history."
On February 21, 2013, the Doritos logo was changed again, and the advertising slogan "FOR THE BOLD" adopted.
In 2015, Doritos introduced a limited edition Rainbow Doritos product, which were only available to those making a minimum donation of $10 to the It Gets Better Project, a non-profit organization that supports LGBT youth. The promotion raised $100,000 for the organization, and was met with controversy.
The plain chips are made of ground corn (maize), vegetable oil, and salt. Other ingredients vary across the flavored chip varieties. Doritos made for the US market generally do not use pork-derived animal rennet in the making of the cheese flavorings used on the chip.
Nacho Cheese Doritos ingredients (U.S.), in order of percent of product: whole corn, vegetable oil (corn, soybean, and/or sunflower oil), salt, cheddar cheese (milk, cheese cultures, salt, enzymes), maltodextrin, whey, monosodium glutamate, buttermilk solids, romano cheese (part skim cow's milk, cheese cultures, salt, enzymes), whey protein concentrate, onion powder, partially hydrogenated soybean and cottonseed oil, corn flour, disodium phosphate, lactose, natural and artificial flavor, dextrose, tomato powder, spices, lactic acid, artificial color (including Yellow 6, Yellow 5, Red 40), citric acid, sugar, garlic powder, red and green bell pepper powder, sodium caseinate, disodium inosinate, disodium guanylate, nonfat milk solids, whey protein isolate, corn syrup solids.
In 1996, The Onion, a satirical newspaper and website, featured an article with the headline "Doritos Celebrates One Millionth Ingredient", lampooning Frito-Lay for the sheer number of ingredients found in Doritos.
Concerns have been raised that the oils, flavorings and additives used may be unhealthy.
In this page you can download free PNG images: Doritos PNG images free download
Keywords: Doritos PNG, Doritos PNG images, PNG image: Doritos PNG, free PNG image, Doritos
Image category: Doritos
Format: PNG image with alpha (transparent)
License: Creative Commons 4.0 BY-NC
Resolution: 745x1082
Size: 1267 kb