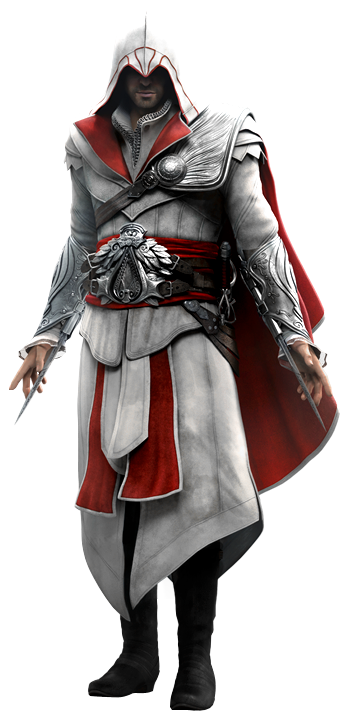 Assassin's Creed PNG image with transparent background | assassins_creed_PNG72.png
This image has format transparent PNG with resolution 350x720.
You can download this image in best resolution from this page and use it for design and web design.
Assassin's Creed PNG with transparent background you can download for free, just click on it and save.
Assassin's Creed is a franchise centered on an action-adventure video game series developed by Ubisoft. It depicts a centuries-old struggle pitting the Assassins, who fight for peace and free will, against the Templars, who believe peace comes through control of humanity. The series features historical fiction mixed with real-world historical events and figures. The series took inspiration from the novel Alamut by the Slovenian writer Vladimir Bartol, while building upon concepts from the Prince of Persia series.
The franchise began in 2007 with the release of Assassin's Creed. The main video game series consists of ten entries, developed by Ubisoft Montreal (single-player) and Ubisoft Annecy (multiplayer), released on PlayStation 3, PlayStation 4, Xbox 360, Xbox One, Wii U, Microsoft Windows, and OS X platforms. Many spin-off games have been made for Nintendo DS, PlayStation Portable, PlayStation Vita, iOS, HP webOS, Android, Nokia Symbian and Windows Phone platforms. The handheld versions are developed by Gameloft and Gryptonite Studios, with additional development by Ubisoft Montreal.
The series has been well received by critics, and has sold over 100 million copies as of September 2016, becoming Ubisoft's best selling franchise and one of the highest selling video game franchises of all time.
The video game series has been expanded into a film, comics and novels; all of which take place within the same continuity as the main video games series.
The Assassin's Creed games primarily revolve around the rivalry between two ancient secret societies — the Assassins and the Knights Templar — and their indirect relation to an ancient species pre-dating humanity, referred to within the games as "those who came before", whose society, along with much of Earth's biosphere, was destroyed by a massive solar storm thousands of years before the games. The games' real-world chronological setting begins in the year 2012, but most of the gameplay is in historical settings.
Within the franchise, Abstergo Industries is a mega-corporation conglomerate with multiple branches, secretly run by modern Knights Templar. The company is the present-day main antagonist of the franchise. Abstergo secretly created the "Animus", a device that allows its users to "re-live" and experience the memories of their genetic ancestors within their bloodline through a virtual simulation. Overexposure to the animus causes the "bleeding effect", which results in giving the user skills and abilities of his ancestors, but is also dangerous for the user as it can damage their mind, causing symptoms such as dementia, insanity, dissociative identity disorder or brain damage. Abstergo is seeking to discover the location of several historical artifacts, known as the "Pieces of Eden". Such artifacts hold great power, and are capable of controlling free will. Abstergo seeks to use them to remove free will and bring humanity into one single unified group, while the Assassins oppose them. In order to find the Pieces of Eden, Abstergo is abducting people whose ancestors are suspected to have had historically confirmed or suspected interactions with such devices, forcing the kidnapped person into the Animus and searching for clues on their ancestors' memories within the Animus.
In this page you can download free PNG images: Assassin's Creed PNG images free download
Keywords:
Assassin's Creed PNG, Assassin's Creed PNG images, PNG image: Assassin's Creed PNG, free PNG image, Assassin's Creed
Image category:
Assassin's Creed
Format:
PNG image with alpha (transparent)
License:
Creative Commons 4.0 BY-NC
Resolution: 350x720
Size: 268 kb