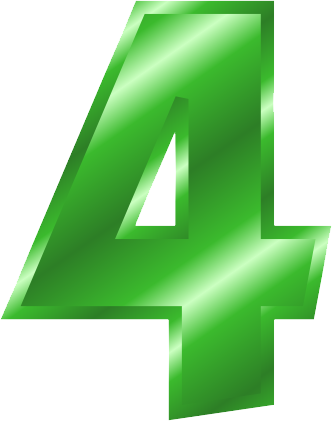 Number 4 PNG image with transparent background
This image has format transparent PNG with resolution 332x421.
You can download this image in best resolution from this page and use it for design and web design.
Number 4 PNG with transparent background you can download for free, just click on it and save.
4 (four) is a number, numeral and digit. It is the natural number following 3 and preceding 5. It is the smallest composite number, and is considered unlucky in many East Asian cultures.
Four is the smallest composite number, its proper divisors being 1 and 2.
4 is the smallest squared prime (p2) and the only even number in this form. 4 is also the only square one more than a prime number.
A number is a multiple of 4 if its last two digits are a multiple of 4. For example, 1092 is a multiple of 4 because 92 = 4 × 23.
In addition, 2 + 2 = 2 × 2 = 22 = 4. Continuing the pattern in Knuth's up-arrow notation, 2 ↑↑ 2 = 2 ↑↑↑ 2 = 4, and so on, for any number of up arrows. (That is, 2 [n] 2 = 4 for every positive integer n, where a [n] b is the hyperoperation.)
A four-sided plane figure is a quadrilateral (quadrangle), sometimes also called a tetragon. It can be further classified as a rectangle, oblong, square, kite, or rhombus.
A solid figure with four faces as well as four vertices is a tetrahedron, and 4 is the smallest possible number of faces (as well as vertices) of a polyhedron. The regular tetrahedron is the simplest Platonic solid. A tetrahedron, which can also be called a 3-simplex, has four triangular faces and four vertices. It is the only self-dual regular polyhedron.
In this page you can download free PNG images of number 4
Keywords:
Number 4 PNG, 4 PNG images, PNG image: Number 4 PNG, free PNG image, 4
Image category:
4
Format:
PNG image with alpha (transparent)
License:
Creative Commons 4.0 BY-NC
Resolution: 332x421
Size: 35 kb