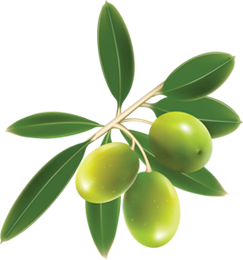 Olives PNG image with transparent background
This image has format transparent PNG with resolution 243x260.
You can download this image in best resolution from this page and use it for design and web design.
Olives PNG with transparent background you can download for free, just click on it and save.
The olive, known by the botanical name Olea europaea, meaning "European olive", is a species of small tree in the family Oleaceae, found traditionally in the Mediterranean Basin. The species is cultivated in all the countries of the Mediterranean, as well as South America, South Africa, India, China, Australia, New Zealand, Mexico, and the United States. Olea europaea is the type species for the genus Olea.
The olive's fruit, also called the olive, is of major agricultural importance in the Mediterranean region as the source of olive oil; it is one of the core ingredients in Mediterranean cuisine. The tree and its fruit give their name to the plant family, which also includes species such as lilacs, jasmine, Forsythia, and the true ash trees (Fraxinus).
The olive tree, Olea europaea, is an evergreen tree or shrub native to Mediterranean Europe, Asia, and Africa. It is short and squat, and rarely exceeds 8–15 m (26–49 ft) in height. 'Pisciottana', a unique variety comprising 40,000 trees found only in the area around Pisciotta in the Campania region of southern Italy often exceeds this, with correspondingly large trunk diameters. The silvery green leaves are oblong, measuring 4–10 cm (1.6–3.9 in) long and 1–3 cm (0.39–1.18 in) wide. The trunk is typically gnarled and twisted.
The small, white, feathery flowers, with ten-cleft calyx and corolla, two stamens, and bifid stigma, are borne generally on the previous year's wood, in racemes springing from the axils of the leaves.
The fruit is a small drupe 1–2.5 cm (0.39–0.98 in) long when ripe, thinner-fleshed and smaller in wild plants than in orchard cultivars. Olives are harvested in the green to purple stage. Canned black olives have often been artificially blackened and may contain the chemical ferrous gluconate to improve the appearance. Olea europaea contains a seed commonly referred to in American English as a pit, and in British English as a stone.
Hundreds of cultivars of the olive tree are known. An olive's cultivar has a significant impact on its colour, size, shape, and growth characteristics, as well as the qualities of olive oil. Olive cultivars may be used primarily for oil, eating, or both. Olives cultivated for consumption are generally referred to as table olives.
Since many olive cultivars are self-sterile or nearly so, they are generally planted in pairs with a single primary cultivar and a secondary cultivar selected for its ability to fertilize the primary one. In recent times, efforts have been directed at producing hybrid cultivars with qualities useful to farmers, such as resistance to disease, quick growth, and larger or more consistent crops.
Olives are not native to the Americas. Spanish colonists brought the olive to the New World, where its cultivation prospered in present-day Peru, Chile, and Argentina . The first seedlings from Spain were planted in Lima by Antonio de Rivera in 1560. Olive tree cultivation quickly spread along the valleys of South America's dry Pacific coast where the climate was similar to the Mediterranean. Spanish missionaries established the tree in the 18th century in California. It was first cultivated at Mission San Diego de Alcalá in 1769 or later around 1795. Orchards were started at other missions, but in 1838, an inspection found only two olive orchards in California. Cultivation for oil gradually became a highly successful commercial venture from the 1860s onward. In Japan, the first successful planting of olive trees happened in 1908 on Shodo Island, which became the cradle of olive cultivation. An estimated 865 million olive trees are in the world today (as of 2005), and the vast majority of these are found in Mediterranean countries, with traditionally marginal areas accounting for no more than 25% of olive-planted area and 10% of oil production.
The olive tree, Olea europaea, has been cultivated for olive oil, fine wood, olive leaf, ornamental reasons, and the olive fruit. About 90% of all harvested olives are turned into oil, while about 10% are used as table olives. The olive is one of the "trinity" or "triad" of basic ingredients in Mediterranean cuisine, the other two being wheat for bread, pasta, and couscous, and the grape for wine.
In this page you can download free PNG images: Olives PNG images free download, olive PNG
Keywords:
Olives PNG, Olives PNG images, PNG image: Olives PNG, free PNG image, Olives
Image category:
Olives
Format:
PNG image with alpha (transparent)
License:
Creative Commons 4.0 BY-NC
Resolution: 243x260
Size: 62 kb