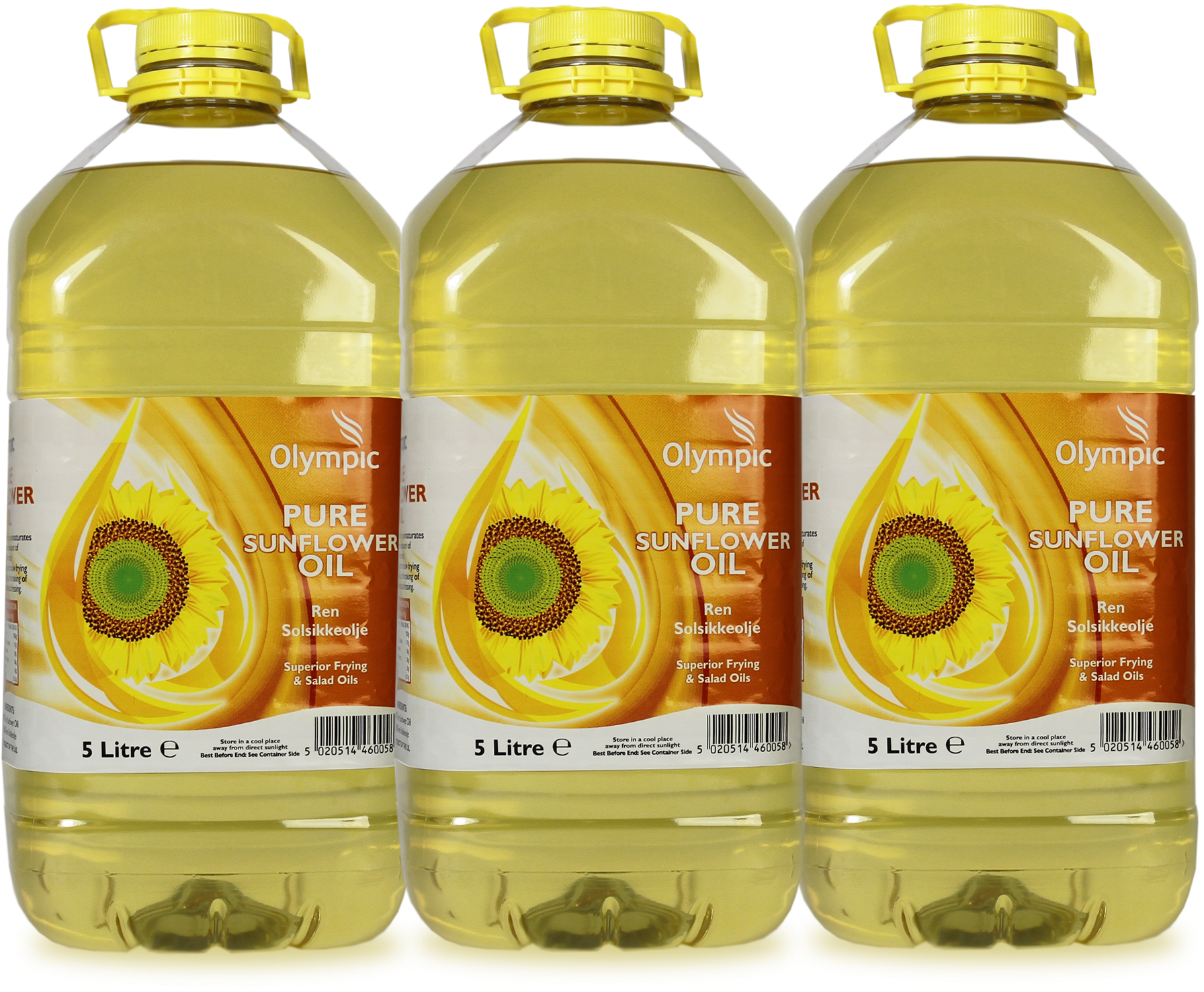 Sunflower oil PNG image with transparent background
This image has format transparent PNG with resolution 1792x1476.
You can download this image in best resolution from this page and use it for design and web design.
Sunflower oil PNG with transparent background you can download for free, just click on it and save.
Sunflower oil is the non-volatile oil pressed from the seeds of sunflower (Helianthus annuus). Sunflower oil is commonly used in food as a frying oil, and in cosmetic formulations as an emollient. The world's total production of sunflower oil in 2014 was nearly 16 million tonnes, with Ukraine and Russia as the largest producers.
Sunflower oil is primarily composed of linoleic acid, a polyunsaturated fat, and oleic acid, a monounsaturated fat. Through selective breeding and manufacturing processes, oils of differing proportions of the fatty acids are produced. The expressed oil has a neutral taste profile. The oil contains a large amount of vitamin E.
As of 2017, genome analysis and development of hybrid sunflowers to increase oil production are under development to meet greater consumer demand for sunflower oil and its commercial varieties.
In 2014, world production of sunflower oil was 15.8 million tonnes, led by Ukraine (4.4 million tonnes), Russia (4.1 million tonnes), Argentina (0.9 million tonnes), Bulgaria (0.8 million tonnes) and Turkey (0.7 million tonnes).
Several varieties of sunflower oil seeds have been developed by standard plant breeding methods, mainly to vary the amounts of oleic acid and linoleic acid which, respectively, are the predominant monounsaturated and polyunsaturated fats in sunflower oil. Sunflower oil is a rich source of vitamin E (tables).
Because sunflower oil is primarily composed of less-stable polyunsaturated and monounsaturated fatty acids, it can be particularly susceptible to degradation by heat, air, and light, which trigger and accelerate oxidation. Keeping sunflower oil at low temperatures during manufacture and storage can help minimize rancidity and nutrient loss—as can storage in bottles that are made of either darkly-colored glass, or, plastic that has been treated with an ultraviolet light protectant.
Refining sunflower oil through solvent extraction, de-gumming, neutralization, and bleaching can make it more stable and suitable for high-temperature cooking, but doing so will also remove some of the oil's nutrients, flavor, color (resulting in a pale-yellow), free fatty acids, phospholipids, polyphenols, and phytosterols. Also, some of the polyunsaturated fatty acids will be converted into trans fat due to the high temperatures involved in the process. Unrefined sunflower oil is less heat-stable (and therefore well-suited to dishes that are raw, or cooked at low temperatures), but it will retain more of its original nutrient content, flavor, and color (light-amber).
Cooking oil is plant, animal, or synthetic fat used in frying, baking, and other types of cooking. It is also used in food preparation and flavouring not involving heat, such as salad dressings and bread dippings like bread dips, and may be called edible oil.
Cooking oil is typically a liquid at room temperature, although some oils that contain saturated fat, such as coconut oil, palm oil and palm kernel oil are solid.
There is a wide variety of cooking oils from plant sources such as olive oil, palm oil, soybean oil, canola oil (rapeseed oil), corn oil, peanut oil and other vegetable oils, as well as animal-based oils like butter and lard.
Oil can be flavored with aromatic foodstuffs such as herbs, chillies or garlic.
In this clipart you can download free PNG images: Sunflower oil PNG images free download
Keywords:
Sunflower oil PNG, Sunflower oil PNG images, PNG image: Sunflower oil PNG, free PNG image, Sunflower oil
Image category:
Sunflower oil
Format:
PNG image with alpha (transparent)
License:
Creative Commons 4.0 BY-NC
Resolution: 1792x1476
Size: 5366 kb