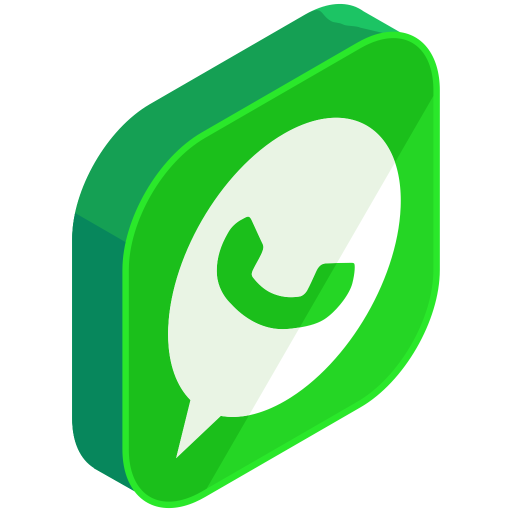 Whatsapp PNG image with transparent background
This image has format transparent PNG with resolution 512x512.
You can download this image in best resolution from this page and use it for design and web design.
Whatsapp PNG with transparent background you can download for free, just click on it and save.
WhatsApp Messenger, or simply WhatsApp, is an American freeware, cross-platform messaging and Voice over IP (VoIP) service owned by Facebook, Inc. It allows users to send text messages and voice messages, make voice and video calls, and share images, documents, user locations, and other media. WhatsApp's client application runs on mobile devices but is also accessible from desktop computers, as long as the user's mobile device remains connected to the Internet while they use the desktop app. The service requires users to provide a standard cellular mobile number for registering with the service. In January 2018, WhatsApp released a standalone business app targeted at small business owners, called WhatsApp Business, to allow companies to communicate with customers who use the standard WhatsApp client.
The client application was created by WhatsApp Inc. of Mountain View, California, which was acquired by Facebook in February 2014 for approximately US$19.3 billion. It became the world's most popular messaging application by 2015, and has over 2 billion users worldwide as of February 2020. It has become the primary means of electronic communication in multiple countries and locations, including Latin America, the Indian subcontinent, and large parts of Europe and Africa.
WhatsApp was founded in by Brian Acton and Jan Koum, former employees of Yahoo!.
In January 2009, after purchasing an iPhone and realizing the potential of the app industry on the App Store, Koum and Acton began visiting Koum's friend Alex Fishman in West San Jose to discuss a new type of messaging app that would "show statuses next to individual names of the people". They realized that to take the idea further, they would need an iPhone developer. Fishman visited RentACoder.com, found Russian developer Igor Solomennikov, and introduced him to Koum.
Koum named the app WhatsApp to sound like "what's up". On February 24, 2009, he incorporated[9] WhatsApp Inc. in California. However, when early versions of WhatsApp kept crashing, Koum considered giving up and looking for a new job. Acton encouraged him to wait for a "few more months".
In June 2009, Apple launched push notifications, allowing users to be pinged when they were not using an app. Koum changed WhatsApp so that everyone in the user's network would be notified when a user's status is changed. WhatsApp 2.0 was released with a messaging component and the number of active users suddenly increased to 250,000. Although Acton was working on another startup idea, he decided to join the company. In October 2009, Acton persuaded five former friends at Yahoo! to invest $250,000 in seed funding, and Acton became a co-founder and was given a stake. He officially joined WhatsApp on November 1. After months at beta stage, the application launched in November 2009, exclusively on the App Store for the iPhone. Koum then hired a friend in Los Angeles, Chris Peiffer, to develop a BlackBerry version, which arrived two months later. In 2010, WhatsApp was subject to multiple acquisition offers from Google which were declined.
To cover the cost of sending verification texts to users, WhatsApp was changed from a free service to a paid one. In December 2009, the ability to send photos was added to the iOS version. By early 2011, WhatsApp was one of the top 20 apps in Apple's U.S. App Store.
In April 2011, Sequoia Capital invested about $8 million for more than 15% of the company, after months of negotiation by Sequoia partner Jim Goetz.
By February 2013, WhatsApp had about 200 million active users and 50 staff members. Sequoia invested another $50 million, and WhatsApp was valued at $1.5 billion.
In a December 2013 blog post, WhatsApp claimed that 400 million active users used the service each month.
On February 19, 2014, just one year after a venture capital financing round at a $1.5 billion valuation, Facebook, Inc. announced it was acquiring WhatsApp for US$19 billion, its largest acquisition to date. At the time, it was the largest acquisition of a venture-backed company in history. Sequoia Capital received an approximate 5000% return on its initial investment. Facebook, which was advised by Allen & Co, paid $4 billion in cash, $12 billion in Facebook shares, and (advised by Morgan Stanley) an additional $3 billion in restricted stock units granted to WhatsApp's founders Koum and Acton. Employee stock was scheduled to vest over four years subsequent to closing. Days after the announcement, WhatsApp users experienced a loss of service, leading to anger across social media.
The acquisition caused a considerable number of users to try and/or move to other message services. Telegram claimed that it acquired 8 million new users; and Line, 2 million.
At a keynote presentation at the Mobile World Congress in Barcelona in February 2014, Facebook CEO Mark Zuckerberg said that Facebook's acquisition of WhatsApp was closely related to the Internet.org vision. A TechCrunch article said this about Zuckerberg's vision:
The idea, he said, is to develop a group of basic internet services that would be free of charge to use – 'a 911 for the internet.' These could be a social networking service like Facebook, a messaging service, maybe search and other things like weather. Providing a bundle of these free of charge to users will work like a gateway drug of sorts – users who may be able to afford data services and phones these days just don't see the point of why they would pay for those data services. This would give them some context for why they are important, and that will lead them to pay for more services like this – or so the hope goes.
Just three days after announcing the Facebook purchase, Koum said they were working to introduce voice calls. He also said that new mobile phones would be sold in Germany with the WhatsApp brand and that their ultimate goal was to be on all smartphones.
In August 2014, WhatsApp was the most globally popular messaging app, with more than 600 million users. By early January 2015, WhatsApp had 700 million monthly users and over 30 billion messages every day. In April 2015, Forbes predicted that between 2012 and 2018, the telecommunications industry would lose $386 billion because of OTT services like WhatsApp and Skype.That month, WhatsApp had over 800 million users. By September 2015, it had grown to 900 million; and by February 2016, one billion.
Voice calls between two accounts were added to the app in March and April 2015.
On November 30, 2015, the Android WhatsApp client made links to another message service, Telegram, unclickable and uncopyable. Multiple sources confirmed that it was intentional, not a bug, and that it had been implemented when the Android source code that recognized Telegram URLs had been identified. (The word "telegram" appeared in WhatsApp's code.) Some considered it an anti-competitive measure, but WhatsApp offered no explanation.
After months at beta stage, the official first release of WhatsApp launched in November 2009, exclusively at the App Store for iPhone. In January 2010, support for BlackBerry smartphones was added; and subsequently for Symbian OS in May 2010, and for Android OS in August 2010. In August 2011, a beta for Nokia's non-smartphone OS Series 40 was added. A month later, support for Windows Phone was added, followed by BlackBerry 10 in March 2013. In April 2015, support for Samsung's Tizen OS was added. The oldest device capable of running WhatsApp was the Symbian-based Nokia N95 released in March 2007. (As of June 2017, WhatsApp is no longer compatible with it.)
WhatsApp was officially made available for PCs through a web client, under the name WhatsApp Web, in late January 2015 through an announcement made by Koum on his Facebook page: "Our web client is simply an extension of your phone: the web browser mirrors conversations and messages from your mobile device—this means all of your messages still live on your phone". The WhatsApp user's handset must still be connected to the Internet for the browser application to function. All major desktop browsers are supported except for Internet Explorer. WhatsApp Web's user interface is based on the default Android one and can be accessed through web.whatsapp.com. Access is granted after the users scan their personal QR code through their mobile WhatsApp application.
In this clipart you can download free PNG images: Whatsapp PNG images free download
Keywords:
Whatsapp PNG, Whatsapp PNG images, PNG image: Whatsapp PNG, free PNG image, Whatsapp
Image category:
Whatsapp
Format:
PNG image with alpha (transparent)
License:
Creative Commons 4.0 BY-NC
Resolution: 512x512
Size: 24 kb