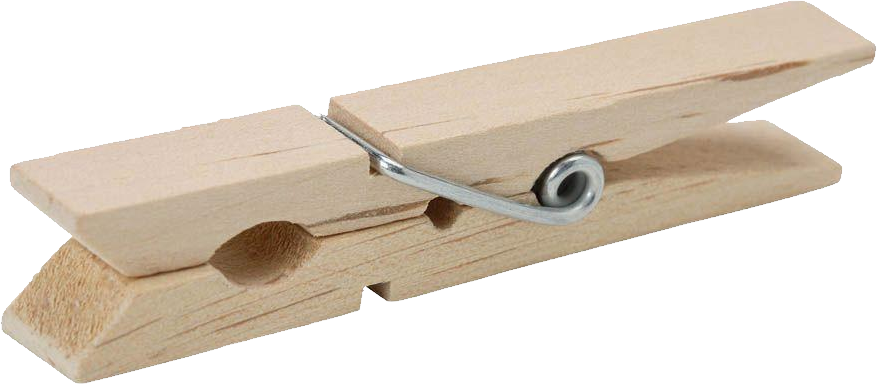 Clothespin PNG image with transparent background
This image has format transparent PNG with resolution 877x384.
You can download this image in best resolution from this page and use it for design and web design.
Clothespin PNG with transparent background you can download for free, just click on it and save.
A clothespin (US English), or clothes peg (UK English) is a fastener used to hang up clothes for drying, usually on a clothes line. Clothespins often come in many different designs.
Not to be confused with the one-piece wooden clothes-peg for hanging up coats that was invented by the Shaker community in the 1700s. During the 1700s laundry was hung on bushes, limbs or lines to dry but no clothespins can be found in any painting or prints of the era. The clothespin for hanging up wet laundry only appears in the early 19th century patented by Jérémie Victor Opdebec. This design does not use springs, but is fashioned in one piece, with the two prongs part of the peg chassis with only a small distance between them—this form of peg creates the gripping action due to the two prongs being wedged apart and thus squeezing together in that the prongs want to return to their initial, resting state. This form of peg is often fashioned from plastic, or originally, wood. In England, clothes-peg making used to be a craft associated with the Romani people, commonly known by the slur gypsy, who made clothes-pegs from small, split lengths of willow or ash wood.
Today, many clothes-pegs (also clothespins) are manufactured very cheaply by creating two interlocking plastic or wooden prongs, in between which is often wedged a small spring. This design was invented by David M. Smith of Springfield, Vermont, in 1853. By a lever action, when the two prongs are pinched at the top of the peg, the prongs open up, and when released, the spring draws the two prongs shut, creating the action necessary for gripping. Smith was also known for being an excellent violin player. It was one of his hobbies. He used to think clearly whenever playing violin, thinking about every day problems. That was how he came up with the idea to invent a clothespin.
The design by Smith was improved by Solon E. Moore in 1887. He added what he called a "coiled fulcrum" made from a single wire, this was the spring that held the wooden pieces together, acted as a spring forcing them to shut, and as a fulcrum on which the two halves could rock, eliminating the need for a separate component, and reducing manufacturing costs. This became the first successful spring-actuated clothespin, being manufactured and sold in huge quantities all across the United States. The state of Vermont, and its capitol of Montpelier, in particular, quickly became what The New York Times has called "The Silicon Valley of Clothespin Manufacturing", the United States Clothespin Company opening in 1887 to manufacture Moore's improved design. Vermonter Stephen Thomas, a Medal of Honor recipient in the Civil War served as company president, and the company enjoyed a significant level of success, in spite of the competitors that rapidly sprang up in Waterbury and other places. Most significant was in 1909, when Allan Moore, one of the U.S.C. Co. employees, devised a way in which clothespins could be manufactured more cheaply, by eliminating one of the coils in the "spring fulcrum". He left the company, and with a loan from a local entrepreneur opened a competing factory, literally across the street from the U.S.C. Co. building. The new National Clothespin Company rapidly overtook the U.S.C. Co., consuming 500,000 board-feet of lumber at the height of production. After WWI, cheap imports from Europe began to flood the market, in spite of repeated calls for protective tariffs by Vermont, and the state industry went into decline; in 1920, it cost 58 cents to manufacture one gross of clothespins in Vermont, while imported Swedish clothespins were sold for 48 cents a gross. The situation worsened after WWII, and the introduction of the electric clothes dryer diminished demand for clothes pins, further damaging the industry; the U.S.C. Co. was forced to close its doors before the end of the 1940s. However, the National Clothespin Company, who had previously moved from its original location across the street, and had been sold to a new owner, managed to stay in business by virtue of a contract with the F.W. Woolworths department store chain. In this fashion, they managed to hang on through the following decades, in spite of a disastrous fire in 1978. The profit margin was eaten into further by the increasing volume cheap Chinese imports; the familiar pleas for protective tariffs were continued, but to no result. The company, which had discontinued its line of wooden clothespins, diversified into plastics, including plastic clothespins, which constituted only a small part of overall production. However, the National Clothespin Company finally ceased production of clothespins, the last American-manufactured clothespin coming off the production line in 2009, amid a certain amount of media attention and regret.
Clothespins were further enhanced by the invention of stainless steel clothespins that do not rust or decay with outdoor use. Rather than using a torsion spring that often twists, causing the clothespin to fall apart, they rely on a strong, trapped, compression spring that results in a stronger grip.
In this page you can download free PNG images: Clothespin PNG images free download
Keywords:
Clothespin PNG, Clothespin PNG images, PNG image: Clothespin PNG, free PNG image, Clothespin
Image category:
Clothespin
Format:
PNG image with alpha (transparent)
License:
Creative Commons 4.0 BY-NC
Resolution: 877x384
Size: 247 kb