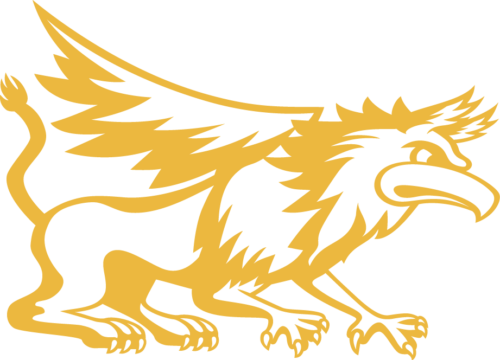 Griffin PNG image with transparent background
This image has format transparent PNG with resolution 500x360.
You can download this image in best resolution from this page and use it for design and web design.
Griffin PNG with transparent background you can download for free, just click on it and save.
The griffin, griffon, or gryphon is a legendary creature with the body, tail, and back legs of a lion; the head and wings of an eagle; and an eagle's talons as its front feet. Because the lion was traditionally considered the king of the beasts and the eagle the king of birds, the griffin was thought to be an especially powerful and majestic creature. The griffin was also thought of as king of all creatures. Griffins are known for guarding treasure and priceless possessions.
In Greek and Roman texts, griffins and Arimaspians were associated with gold. Indeed, in later accounts, "griffins were said to lay eggs in burrows on the grounds and these nests contained gold nuggets". Adrienne Mayor, a classical folklorist, proposes that the griffin was an ancient misconception derived from the fossilized remains of the Protoceratops found in gold mines in the Altai mountains of Scythia, in present-day southeastern Kazakhstan, or in Mongolia, though this hypothesis has been strongly contested as it ignores pre-Mycenaean accounts. In antiquity it was a symbol of divine power and a guardian of the divine.
Most statuary representations of griffins depict them with bird-like talons, although in some older illustrations griffins have a lion's forelimbs; they generally have a lion's hindquarters. Its eagle's head is conventionally given prominent ears; these are sometimes described as the lion's ears, but are often elongated (more like a horse's), and are sometimes feathered.
Infrequently, a griffin is portrayed without wings, or a wingless eagle-headed lion is identified as a griffin. In 15th-century and later heraldry, such a beast may be called an alce or a keythong.
In heraldry, a griffin always has forelegs like an eagle's hind-legs. A type of griffin with the four legs of a lion was distinguished by perhaps only one English herald of later heraldry as the Opinicus, which also had a camel-like neck and a short tail that almost resembles a camel's tail.
In this page you can download free PNG images: Griffin PNG images free download
Keywords:
Griffin PNG, Griffin PNG images, PNG image: Griffin PNG, free PNG image, Griffin
Image category:
Griffin
Format:
PNG image with alpha (transparent)
License:
Creative Commons 4.0 BY-NC
Resolution: 500x360
Size: 41 kb