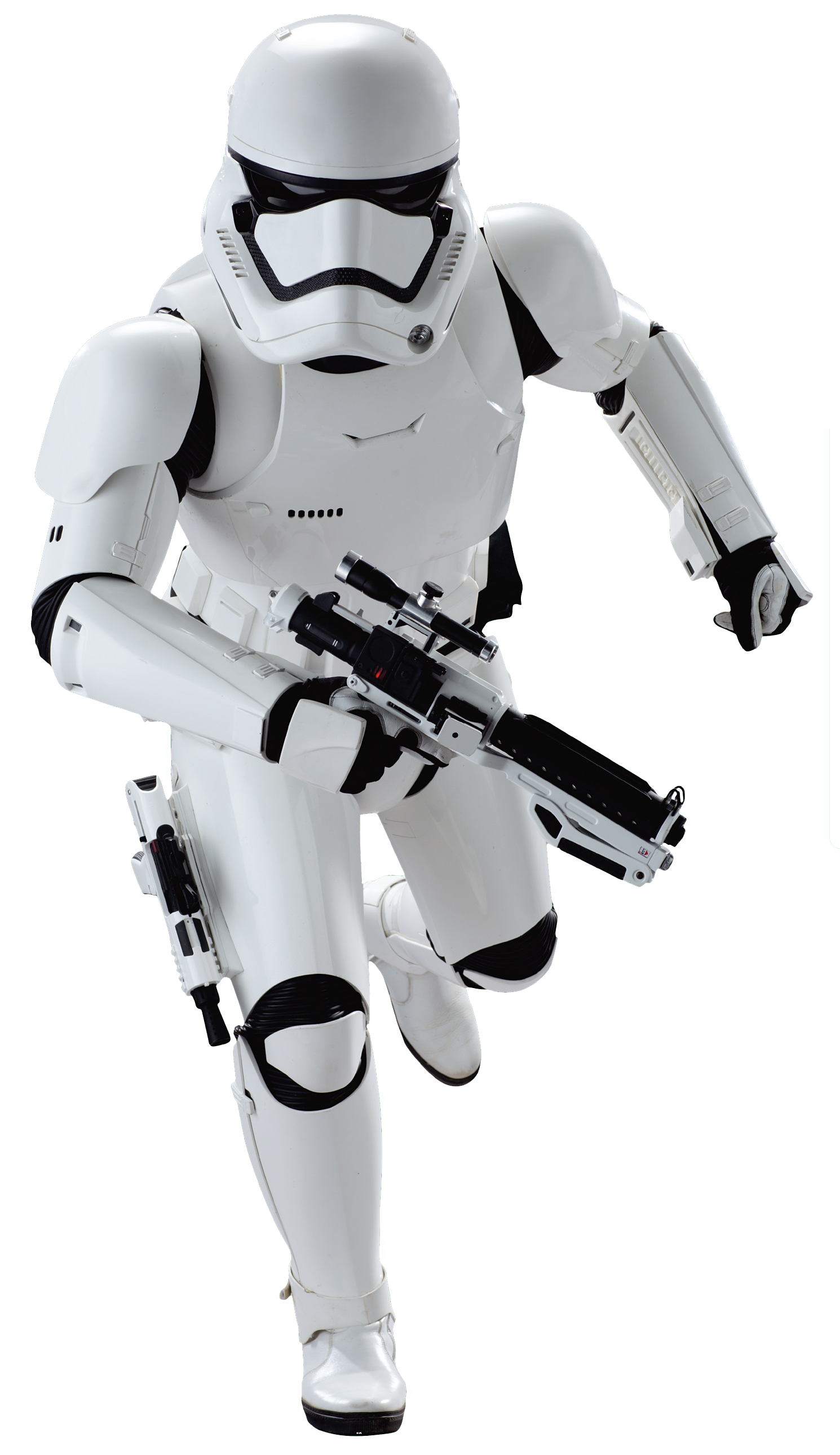 Stormtrooper PNG image with transparent background
This image has format transparent PNG with resolution 1490x2580.
You can download this image in best resolution from this page and use it for design and web design.
Stormtrooper PNG with transparent background you can download for free, just click on it and save.
A stormtrooper is a fictional soldier in the Star Wars franchise created by George Lucas. Introduced in Star Wars (1977), the stormtroopers are the main ground force of the Galactic Empire, under the leadership of Emperor Palpatine and his commanders, most notably Darth Vader and Grand Moff Tarkin. In The Force Awakens (2015), the upgraded stormtroopers serve the First Order, under the leadership of Supreme Leader Snoke and his commanders, most notably Kylo Ren, General Hux, and Captain Phasma.
The order of battle of the Stormtrooper Corps is unspecified in the Star Wars universe. Accompanying the Imperial Navy, stormtroopers are able to be deployed swiftly and respond to states of civil unrest or insurrection, act as a planetary garrison, and police areas within the Galactic Empire. They are shown in collective groups of varying organizational sizes ranging from squads to legions and for some, their armor and training are modified for special operations and environments.
The Stormtrooper Corps swell in size after Palpatine completely replaced the clones with recruits and conscripts of the empire, though the replacement of clones with natural beings lowered the effectiveness of the Empire's soldiers. With the Empire firmly stabilized and an Imperial Army/Imperial Navy established, the stormtroopers are integrated into Palpatine's personal army and stationed on Imperial bases and cruisers, as well as on the Death Star.
As established in Star Wars: The Force Awakens (2015), after Palpatine's death the stormtroopers continue to serve under the factions that broke apart from the Empire. With redesigned armor, they eventually serve under the leadership of the First Order. In this film, it is also established that an undisclosed number of stormtroopers were conscripted as young children, given serial numbers for names and mentally conditioned for loyal service.Stormtrooper FN-2187, later known as Finn, plans his escape when his resistance to this conditioning puts him in line to be reprogrammed.
In this page you can download free PNG images: Stormtrooper PNG images free download
Keywords: Stormtrooper PNG, Download PNG image with transparent background, PNG image: Stormtrooper PNG, free PNG image, Stormtrooper
Image category: Stormtrooper
Format: PNG image with alpha (transparent)
License: Creative Commons 4.0 BY-NC
Resolution: 1490x2580
Size: 2481 kb