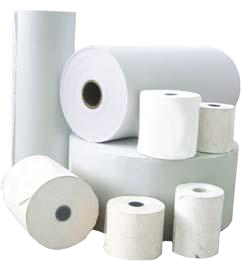 Toilet paper PNG image with transparent background
This image has format transparent PNG with resolution 250x263.
You can download this image in best resolution from this page and use it for design and web design.
Toilet paper PNG with transparent background you can download for free, just click on it and save.
Toilet paper (sometimes called toilet roll, toilet tissue or loo roll or bog roll in Britain) is a tissue paper product primarily used to clean the anus and surrounding area of feces after defecation and to clean the perineal area of urine after urination or other bodily fluid releases. It also acts as a layer of protection for the hands during these processes. It is usually supplied as a long strip of perforated paper wrapped around a paperboard core for storage in a dispenser near a toilet. Most modern toilet paper in the developed world is designed to decompose in septic tanks, whereas some other bathroom and facial tissues are not. Toilet paper comes in various numbers of plies (layers of thickness), from one- to six-ply, with more back-to-back plies providing greater strength and absorbency.
The use of paper for hygiene has been recorded in China in the 6th century AD, with specifically manufactured toilet paper being mass-produced in the 14th century. Modern commercial toilet paper originated in the 19th century, with a patent for roll-based dispensers being made in 1883.
Toilet paper is available in several types of paper, a variety of patterns, decorations, and textures, and it may be moistened or perfumed, although fragrances sometimes cause problems for users who are allergic to perfumes. The average measures of a modern roll of toilet paper is c. 10 cm wide, and 12 cm in diameter, and weighs about 227 grams (8 oz.). An alternative method of packing the sheets uses interleaved sheets in boxes, or in bulk for use in dispensers. "Hard" single-ply paper has been used as well as soft multi-ply.
Manufactured toilet paper sheet in the United States was sized 4.5 in (11 cm) × 4 in (10 cm). Since 1999 the size of a sheet has been shrinking; Kimberly-Clark reduced the length of a sheet to 4.1 in (10 cm). Scott, in 2006, reduced the length of their product to 3.7 in (9.4 cm). The width of sheets was later reduced giving a general sheet size of 3.7 in (9.4 cm) long and 4.1 in (10 cm) wide. Larger sizes remain available.
Toilet paper products vary greatly in the distinguishing technical factors, such as size, weight, roughness, softness, chemical residues, "finger-breakthrough" resistance, water-absorption, etc. The larger companies have very detailed, scientific market surveys to determine which marketing sectors require or demand which of the many technical qualities. Modern toilet paper may have a light coating of aloe or lotion or wax worked into the paper to reduce roughness.
Quality is usually determined by the number of plies (stacked sheets), coarseness, and durability. Low grade institutional toilet paper is typically of the lowest grade of paper, has only one or two plies, is very coarse and sometimes contains small amounts of embedded unbleached/unpulped paper. A brand disinfected with Carbolic Acid was manufactured in Sheffield under the Izal brand name by Newton Chambers until 1981. Mid-grade two ply is somewhat textured to provide some softness and is somewhat stronger. Premium toilet paper may have lotion and wax and has two to four plies of very finely pulped paper. If it is marketed as "luxury", it may be quilted or rippled (embossed), perfumed, colored or patterned, medicated (with anti-bacterial chemicals), or treated with aloe or other perfumes.
To advance decomposition of the paper in septic tanks or drainage, the paper used has shorter fibres than facial tissue or writing paper. The manufacturer tries to reach an optimal balance between rapid decomposition (which requires shorter fibres) and sturdiness (which requires longer fibres). Compaction of toilet paper in drain lines, such as in a clog, prevents fibre dispersion and largely halts the breakdown process.
A German quip says that the toilet paper of Nazi Germany was so rough and scratchy that it was almost unusable, so many people used old issues of the Völkischer Beobachter instead, because the paper was softer.
In this page you can download free PNG images: Toilet paper PNG images free download
Keywords: Toilet paper PNG, Toilet paper PNG images, PNG image: Toilet paper PNG, free PNG image, Toilet paper
Image category: Toilet paper
Format: PNG image with alpha (transparent)
License: Creative Commons 4.0 BY-NC
Resolution: 250x263
Size: 40 kb