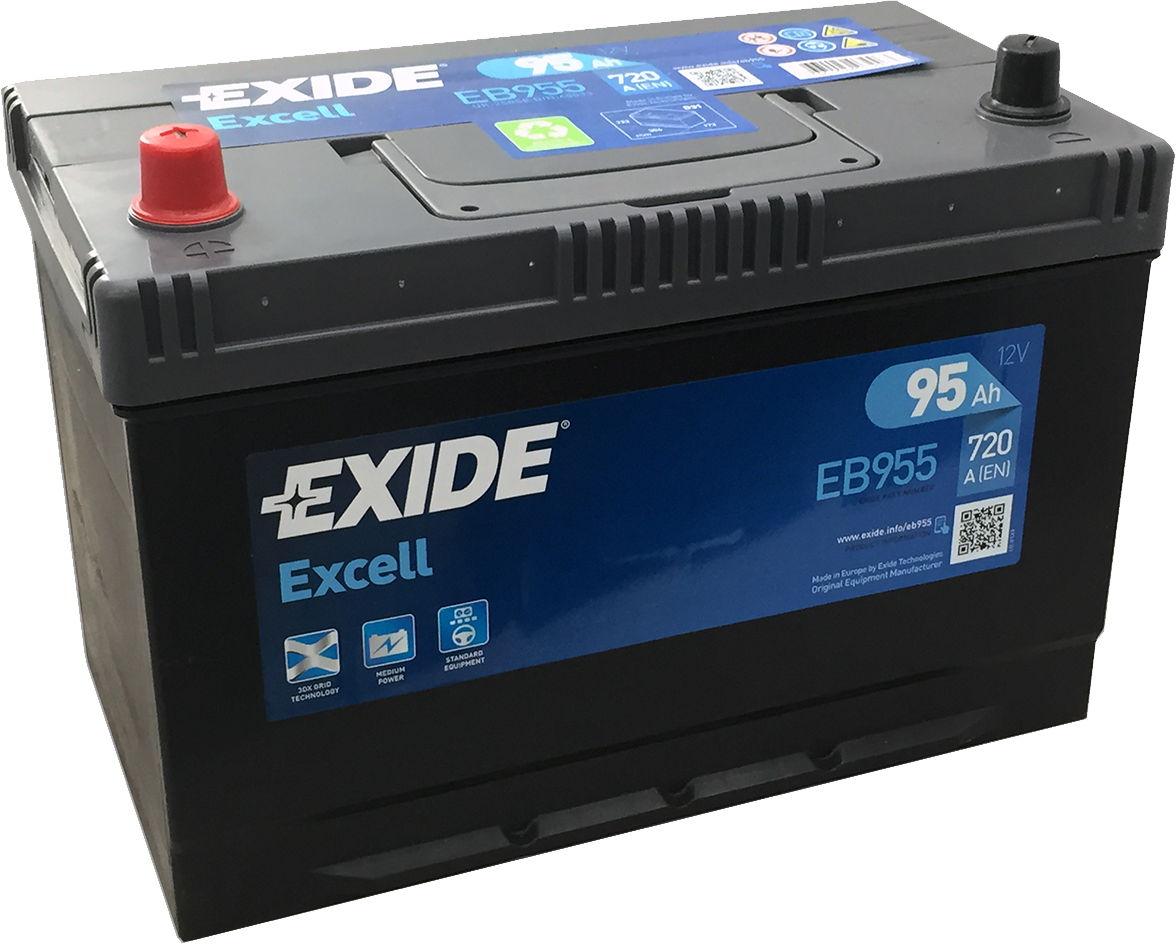 Automotive battery PNG image with transparent background | automotive_battery_PNG12090.png
This image has format transparent PNG with resolution 1176x944.
You can download this image in best resolution from this page and use it for design and web design.
Automotive battery PNG with transparent background you can download for free, just click on it and save.
An automotive battery is a rechargeable battery that is used to start a motor vehicle. Its main purpose is to provide an electric current to the electric-powered starting motor, which in turn starts the chemically-powered internal combustion engine that actually propels the vehicle. Once the engine is running, power for the car's electrical systems is still supplied by the battery, with the alternator charging the battery as demands increase or decrease.
Typically, starting uses less than three percent of the battery capacity. For this reason, automotive batteries are designed to deliver maximum current for a short period of time. They are sometimes referred to as "SLI batteries" for this reason, for starting, lighting and ignition. SLI batteries are not designed for deep discharging, and a full discharge can reduce the battery's lifespan.
As well as starting the engine, an SLI battery supplies the extra power necessary when the vehicle's electrical requirements exceed the supply from the charging system. It is also a stabilizer, evening out potentially damaging voltage spikes. While the engine is running, most of the power is provided by the alternator, which includes a voltage regulator to keep the output between 13.5 and 14.5 V. Modern SLI batteries are lead-acid type, using six series-connected cells to provide a nominal 12 volt system (in most passenger vehicles and light trucks), or twelve cells for a 24 volt system in heavy trucks or earth-moving equipment, for example.
Gas explosions can occur at the negative electrode where hydrogen gas can build up due to blocked battery vents or a poorly ventilated setting, combined with an ignition source. Explosions during engine start up are typically associated with corroded or dirty battery posts. A 1993 study by the US National Highway Traffic Safety Administration said that 31% of vehicle battery explosion injuries occurred while charging the battery. The next most common scenarios were while working on cable connections, while jump starting, typically by failing to connect to the dead battery before the charging source and failing to connect to the vehicle chassis rather than directly to the grounded battery post, and while checking fluid levels. Close to two thirds of those injured suffered chemical burns, and nearly three fourths suffered eye injuries, among other possible injuries.
An automobile battery is an example of a wet cell battery, with six cells. Each cell of a lead storage battery consists of alternate plates made of a lead alloy grid filled with sponge lead (cathode plates) or coated with lead dioxide (anode). Each cell is filled with a sulfuric acid solution, which is the electrolyte. Initially, cells each had a filler cap, through which the electrolyte level could be viewed and which allowed water to be added to the cell. The filler cap had a small vent hole which allowed hydrogen gas generated during charging to escape from the cell.
The cells are connected by short heavy straps from the positive plates of one cell to the negative plates of the adjacent cell. A pair of heavy terminals, plated with lead to resist corrosion, are mounted at the top, sometimes the side, of the battery. Early auto batteries used hard rubber cases and wooden plate separators. Modern units use plastic cases and woven sheets to prevent the plates of a cell from touching and short-circuiting.
In the past, auto batteries required regular inspection and maintenance to replace water that was decomposed during the operation of the battery. "Low-maintenance" (sometimes called "zero-maintenance") batteries use a different alloy for the plate elements, reducing the amount of water decomposed on charging. A modern battery may not require additional water over its useful life; some types eliminate the individual filler caps for each cell. A weakness of these batteries is that they are very intolerant of deep discharge, such as when the car battery is completely drained by leaving the lights on. This coats the lead plate electrodes with lead sulfate deposits and can reduce the battery's lifespan by a third or more.
VRLA batteries, also known as absorbed glass mat (AGM) batteries are more tolerant of deep discharge but are more expensive. VRLA batteries do not permit addition of water to the cell. The cells each have an automatic pressure release valve, to protect the case from rupture on severe overcharge or internal failure. A VRLA battery cannot spill its electrolyte which makes it particularly useful in vehicles such as motorcycles.
Batteries are typically made of six galvanic cells in a series circuit. Each cell provides 2.1 volts for a total of 12.6 volts at full charge. During discharge, at the negative (lead) terminal a chemical reaction releases electrons to the external circuit, and at the positive (lead oxide) terminal another chemical reaction absorbs electrons from the external circuit. This drives the electrons through the external circuit wire (an electrical conductor) to produce an electric current (electricity). As the battery discharges, the acid of the electrolyte reacts with the materials of the plates, changing their surface to lead sulfate. When the battery is recharged, the chemical reaction is reversed: the lead sulfate reforms into lead dioxide. With the plates restored to their original condition, the process may be repeated.
Some vehicles use other starter batteries. The 2010 Porsche 911 GT3 RS has a lithium-ion battery as an option to save weight. Heavy vehicles may have two batteries in series for a 24 V system or may have series-parallel groups of batteries supplying 24 V.
In this gallery you can download free PNG images: Automotive battery PNG, car battery PNG
Keywords:
Automotive battery PNG, Automotive battery PNG images, PNG image: Automotive battery PNG, free PNG image, Automotive battery
Image category:
Automotive battery
Format:
PNG image with alpha (transparent)
License:
Creative Commons 4.0 BY-NC
Resolution: 1176x944
Size: 1216 kb