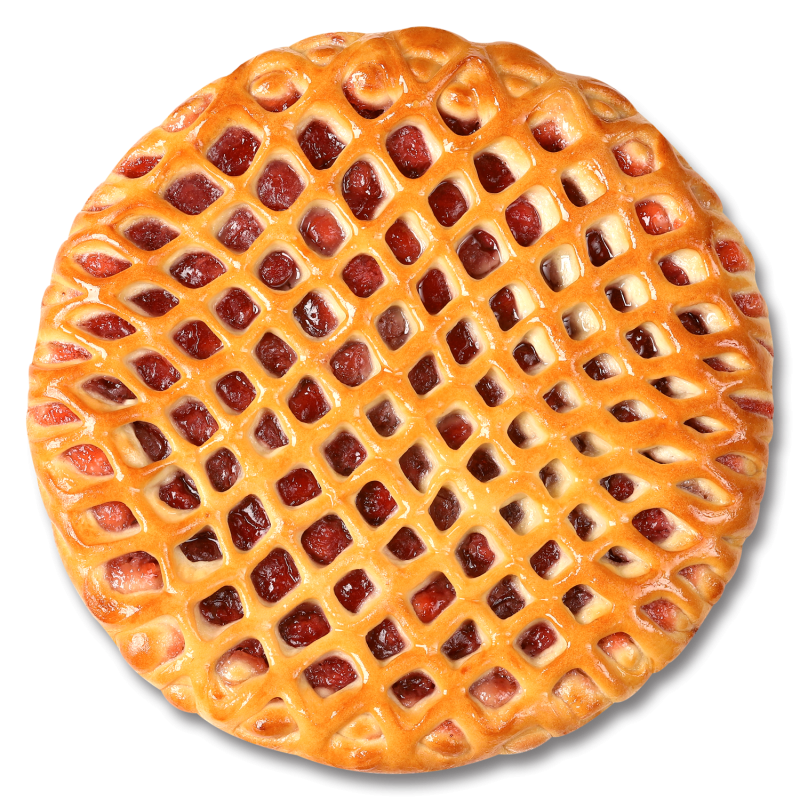 Pie PNG image with transparent background
This image has format transparent PNG with resolution 800x800.
You can download this image in best resolution from this page and use it for design and web design.
Pie PNG with transparent background you can download for free, just click on it and save.
A pie is a baked dish which is usually made of a pastry dough casing that contains a filling of various sweet or savoury ingredients. Sweet pies may be filled with fruit (as in an apple pie), nuts (pecan pie), brown sugar (sugar pie), sweetened vegetables (rhubarb pie), or with thicker fillings based on eggs and dairy (as in custard pie and cream pie). Savoury pies may be filled with meat (as in a steak pie or a Jamaican patty), eggs and cheese (quiche) or a mixture of meat and vegetables (pot pie).
Pies are defined by their crusts. A filled pie (also single-crust or bottom-crust), has pastry lining the baking dish, and the filling is placed on top of the pastry but left open. A top-crust pie has the filling in the bottom of the dish and is covered with a pastry or other covering before baking. A two-crust pie has the filling completely enclosed in the pastry shell. Shortcrust pastry is a typical kind of pastry used for pie crusts, but many things can be used, including baking powder biscuits, mashed potatoes, and crumbs.
Pies can be a variety of sizes, ranging from bite-size to ones designed for multiple servings.
A typical recipe will include baking powder or baking soda, flour, salt, shortening or butter, and milk or buttermilk. The percentages of these ingredients vary as historically the recipe would pass orally from family to family and generation to generation. Biscuits are almost always a savoury food item. Sugar is rare or included only in small quantities, and was not part of the traditional recipe.
Biscuits can be prepared for baking in several ways. The dough can be rolled out flat and cut into rounds, which expand when baked into flaky-layered cylinders. If extra liquid is added, the dough's texture changes to resemble stiff pancake batter so that small spoonfuls can be dropped into the baking sheet to produce drop biscuits, which are more amorphous in texture and shape.
Although most biscuits are made without yeast, a type of biscuit called an angel biscuit contains yeast as well, as do those made with a sourdough starter.
In this clipart you can download free PNG images: Pie PNG images free download
Keywords: Pie PNG, Pie PNG images, PNG image: Pie PNG, free PNG image, Pie
Image category: Pie
Format: PNG image with alpha (transparent)
License: Creative Commons 4.0 BY-NC
Resolution: 800x800
Size: 1039 kb