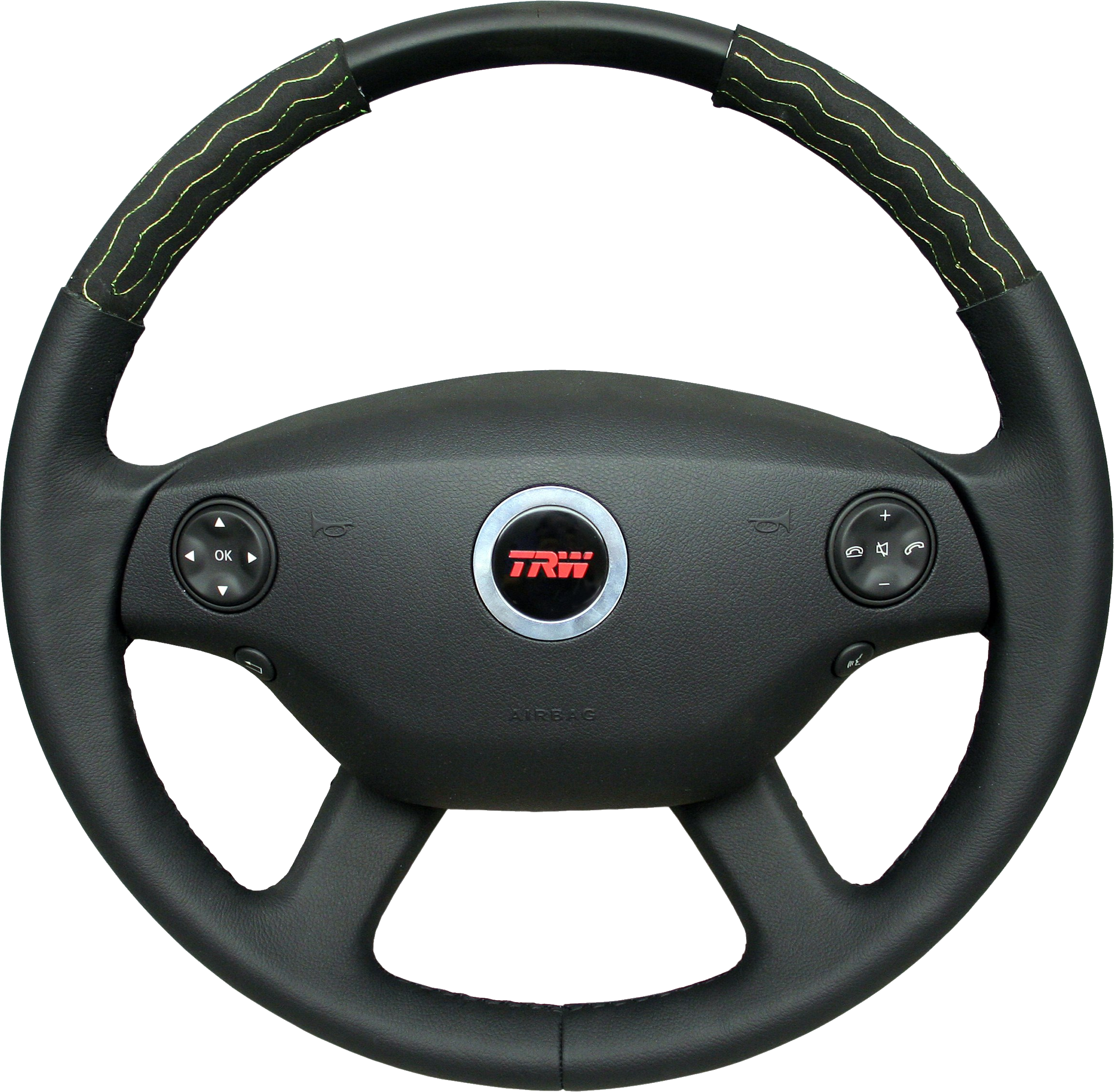 Steering wheel PNG image with transparent background | steering_wheel_PNG102836.png
This image has format transparent PNG with resolution 2317x2271.
You can download this image in best resolution from this page and use it for design and web design.
Steering wheel PNG with transparent background you can download for free, just click on it and save.
A steering wheel (also called a driving wheel or a hand wheel) is a type of steering control in vehicles.
Steering wheels are used in most modern land vehicles, including all mass-production automobiles, buses, light and heavy trucks, as well as tractors. The steering wheel is the part of the steering system that is manipulated by the driver; the rest of the steering system responds to such driver inputs. This can be through direct mechanical contact as in recirculating ball or rack and pinion steering gears, without or with the assistance of hydraulic power steering, HPS, or as in some modern production cars with the assistance of computer-controlled motors, known as electric power steering.
Steering wheels for passenger automobiles are generally circular and are mounted to the steering column by a hub connected to the outer ring of the steering wheel by one or more spokes (single spoke wheels being a rather rare exception). Other types of vehicles may use the circular design, a butterfly shape, or some other shape. In countries where cars must drive on the left side of the road, the steering wheel is typically on the right side of the car (right-hand drive or RHD); the converse applies in countries where cars drive on the right side of the road (left-hand drive or LHD).
In addition to its use in steering, the steering wheel is the usual location for a button to activate the car's horn. Modern automobiles may have other controls, such as cruise control, audio system, and telephone controls, as well as paddle-shifters, built into the steering wheel to minimize the extent to which the driver must take their hands off the wheel.
The steering wheels were rigid and mounted on non-collapsible steering columns. This arrangement increased the risk of impaling the driver in case of a severe crash. The first collapsible steering column was invented in 1934 but was never successfully marketed. By 1956, Ford came out with a safety steering wheel that was set high above the post with spokes that would flex, but the column was still rigid. In 1968, United States regulations (FMVSS Standard No. 204) were implemented concerning the acceptable rearward movement of the steering wheel in case of crash. Collapsible steering columns were required to meet that standard.
Power steering gives the driver an easier means by which the steering of a car can be accomplished. Modern power steering has almost universally relied on a hydraulic system, although electrical systems are steadily replacing this technology. Mechanical power steering systems were introduced, such as on 1953 Studebakers. However, hydraulicly assisted systems have prevailed.
While other methods of steering passenger cars have resulted from experiments, for example the "wrist-twist" steering of the 1965 Mercury Park Lane concept car was controlled by two 5-inch (127 mm) rings, none have yet been deployed as successfully as the conventional large steering wheel.
Passenger automobile regulations implemented by the U.S. Department of Transportation required the locking of steering wheel rotation (or transmission locked in "park") to hinder motor vehicle theft; in most vehicles, this is accomplished when the ignition key is removed from the ignition lock. See steering lock.
In this page you can download free PNG images: Steering wheel PNG images free download
Keywords:
Steering wheel PNG, Steering wheel PNG images, PNG image: Steering wheel PNG, free PNG image, Steering wheel
Image category:
Steering wheel
Format:
PNG image with alpha (transparent)
License:
Creative Commons 4.0 BY-NC
Resolution: 2317x2271
Size: 4534 kb