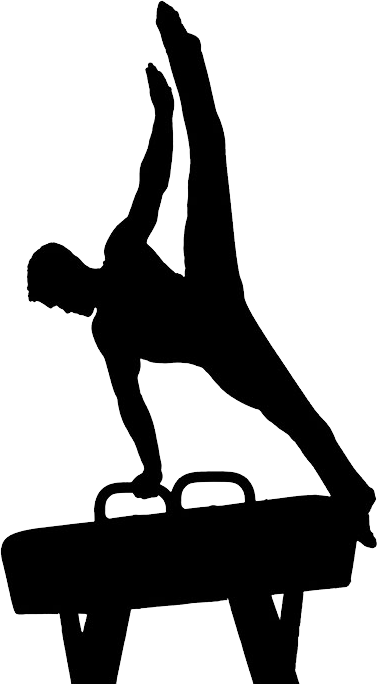 Gymnastics PNG image with transparent background
This image has format transparent PNG with resolution 377x684.
You can download this image in best resolution from this page and use it for design and web design.
Gymnastics PNG with transparent background you can download for free, just click on it and save.
Gymnastics is a sport that requires balance, strength, flexibility, agility, coordination and endurance. The movements involved in gymnastics contribute to the development of the arms, legs, shoulders, back, chest and abdominal muscle groups. Alertness, precision, daring, self-confidence and self-discipline are mental traits that can also be developed through gymnastics. Gymnastics evolved from exercises used by the ancient Greeks that included skills for mounting and dismounting a horse, and from circus performance skills.
Most forms of competitive gymnastics events are governed by the F?d?ration Internationale de Gymnastique (FIG). Each country has its own national governing body (BIW) affiliated to FIG. Competitive artistic gymnastics is the best known of the gymnastic events. It typically involves the women's events of vault, uneven bars, balance beam and floor exercise as well as the men's events of floor exercise, pommel horse, still rings, vault, parallel bars and horizontal bar.
Other FIG disciplines include rhythmic gymnastics, trampolining and tumbling, acrobatic gymnastics, aerobic gymnastics and parkour. Disciplines not currently recognized by FIG include wheel gymnastics, aesthetic group gymnastics, men's rhythmic gymnastics, TeamGym and mallakhamba. Participants can include children as young as 20 months old doing kindergym and children's gymnastics, recreational gymnasts of ages 3 and up, competitive gymnasts at varying levels of skill, and world-class athletes.
Artistic Gymnastics is usually divided into Men's and Women's Gymnastics. Men compete on six events: Floor Exercise, Pommel Horse, Still Rings, Vault, Parallel Bars, and Horizontal Bar, while women compete on four: Vault, Uneven Bars, Balance Beam, and Floor Exercise. In some countries, women at one time competed on the rings, high bar, and parallel bars (for example, in the 1950s in the USSR).
In 2006, FIG introduced a new points system for Artistic gymnastics in which scores are no longer limited to 10 points. The system is used in the US for elite level competition. Unlike the old code of points, there are two separate scores, an execution score and a difficulty score. In the previous system, the "execution score" was the only score. It was and still is out of 10.00, except for short exercises. During the gymnast's performance, the judges deduct this score only. A fall, on or off the event, is a 1.00 deduction, in elite level gymnastics. The introduction of the difficulty score is a significant change. The gymnast's difficulty score is based on what elements they perform and is subject to change if they do not perform or complete all the skills, or they do not connect a skill meant to be connected to another. Connection bonuses are where deviation happens most common between the intended and actual difficulty scores, as it can be difficult to connect multiple flight elements. It is very hard to connect skills if the first skill is not performed correctly. The new code of points allows the gymnasts to gain higher scores based on the difficulty of the skills they perform as well as their execution. There is no maximum score for difficulty, as it can keep increasing as the difficulty of the skills increase.
In this page you can download free PNG images: Gymnastics PNG images free download
Keywords: Gymnastics PNG, Gymnastics PNG images, PNG image: Gymnastics PNG, free PNG image, Gymnastics
Image category: Gymnastics
Format: PNG image with alpha (transparent)
License: Creative Commons 4.0 BY-NC
Resolution: 377x684
Size: 48 kb